Who We Are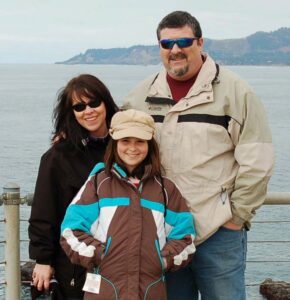 Owned by Bill and Bradli Daun, Willamette Hardwood Floors is your source for professional hardwood flooring in Salem Oregon.
We live, work, and play in our community, so building our business on a solid foundation of professional service and quality workmanship is vital to our long term health as a company.
We view our client relationships as the most important part of our business, and are likely to call you friend when our project is finished.
We look forward to sitting down with you and discussing your flooring project.  Give us a call today.
Our family has been serving the Willamette Valley's hardwood flooring needs for 5 decades, including 3 generations of wood flooring craftsmen.
Bill Daun started his training with his grandfather, the owner of Carroll's Hardwood Floors, when he was just fourteen years of age.
After working side by side with his grandfather for many years, Bill moved on to work with several other reputable companies such as Union Hardwood Floors, Gieselman's Hardwood and, finally, Ryerson Hardwood Floors where he spend over thirteen years fine tuning his hardwood flooring techniques. Bill continued to learn from some of the finest "old school" hardwood flooring craftsmen in the business.
Presently, Bill is the operator and founder of Willamette Hardwood Floors, Inc. and resides with his wife and business partner, Bradli Daun, in Salem Oregon.
Our company was established with some very simple principals for doing business. These principals were passed down from Bill's grandfather and are still in place today in our company.
The customer is our first priority, combined with attention to detail and producing the highest quality product available at a fair price…that is our mission.